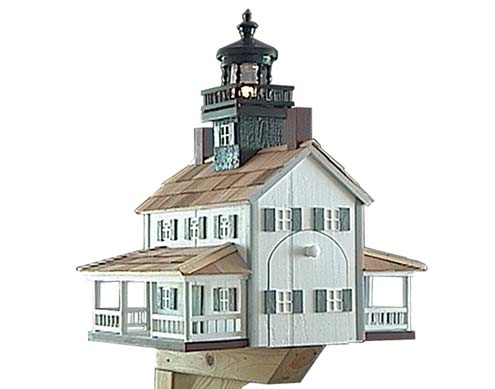 Today, I'm featuring my dream Mailbox. Wouldn't this one just be perfect for Tutu? I could actually erect this one up at the top of the hill and across the road, so I could get my mail by taking a long....long....walk to see whether or not the mail had come! Hmmmm..... I think I'll just keep dreaming....life in Maine is so wonderful that it helps us accept the little inconveniences of not getting mail at our front door. Besides in a small town, where people live a bit apart (not packed into blocks of townhouses, or megaboxes of apartments), the trip to the Post Office, and the General Store next to it, and the library just across the street is often the highlight of the day. It's a gathering, social situation. Grab a cup of coffee at the store, sit and read your mail. In the summer, you can even go across the street to the town landing, and sit at one of the tables under a tree to soak up nature's beauty, and gaze at the beautiful little People's Church across the river.
Of course, everyone knows that Tutu's mail comes to the post office in a little square box with a lock on the front. It looks just like every other one of the 400 boxes in the little white building and is only accessible from 8-12:30 and 1:30-4 Mon-Fri. None of the books will fit into the box so all I really get is a yellow ticket telling me to go to the window. It's like winning the lottery.
This week I got two from entering contests - both perfect for summer...
Kristin Hannah has written another gorgeous story I can hardly wait to dive into. It's a follow-up to
Firefly Lane,
and I'm determined to read them in order so this one may take a few months for me to get to. In the meantime, here's something to wet your reading whistles:
Tully Hart has always been larger than life, a woman fueled by big dreams and driven by memories of a painful past. She thinks she can overcome anything until her best friend, Kate Ryan, dies. Tully tries to fulfill her deathbed promise to Kate---to be there for Kate's children---but Tully knows nothing about family or motherhood or taking care of people.




Sixteen-year-old Marah Ryan is devastated by her mother's death. Her father, Johnny, strives to hold the family together, but even with his best efforts, Marah becomes unreachable in her grief. Nothing and no one seems to matter to her . . . until she falls in love with a young man who makes her smile again and leads her into his dangerous, shadowy world.




Dorothy Hart---the woman who once called herself Cloud---is at the center of Tully's tragic past. She repeatedly abandoned her daughter, Tully, as a child, but now she comes back, drawn to her daughter's side at a time when Tully is most alone. At long last, Dorothy must face her darkest fear: Only by revealing the ugly secrets of her past can she hope to become the mother her daughter needs.




A single, tragic choice and a middle-of-the-night phone call will bring these women together and set them on a poignant, powerful journey of redemption. Each has lost her way, and they will need each one another---and maybe a miracle---to transform their lives.An emotionally complex, heart-wrenching novel about love, motherhood, loss, and new beginnings, Fly Away reminds us that where there is life, there is hope, and where there is love, there is forgiveness. Told with her trademark powerful storytelling and illuminating prose, Kristin Hannah reveals why she is one of the most beloved writers of our day.
~~~~~~~~~~~~~~~~~~~~~~
Then I got an ARC - one I think I got from filling out a form on Shelf-Awareness but I honestly can't find any record of how I actually got this, so my thanks to whoever sent it. It looks like so much fun. Don't you just love the cover? Who could resist it? And it appears that it's got a pretty good mystery inside. The perfect book to take on vacation next month.
Despite Melanie's domestic demands - a toddler and a house full of Standard Poodles - helping Edward March pen his life story is an opportunity she can't pass up. Of course Edward turns out to be a growly old man who wants his book - "Puppy Love" - to consist mainly of his amorous encounters with women from the dog show community. It's juicy gossip, but not dangerous...until Andrew, Edward's son, pays Melanie an angry visit to stop her from working on the book. When Andrew suddenly turns up very dead, the victim of a seemingly intentional hit-and-run, the police are looking at Edward as Suspect No. 1. There was lots of bad blood between Andrew and his father, but Melanie is looking at the bigger picture. Would some of Edwards' ex-trysts have gone after Andrew to shut Edward up? How about all of those husbands and boyfriends with bones to pick? And who is that woman who everyone is avoiding at the funeral? Between getting caught up in the bafflingly dysfunctional March family, sorting out two generations of disgruntled ex lovers, and uncovering a shocking case of secret hoarding, Melanie's running into dead ends almost as fast as she's running out of time. The longer the killer stays unleashed, the sooner she may end up in the dog house for good.