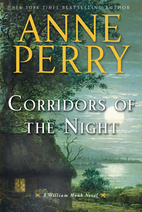 Corridors of the Night
A William Monk Novel
It's been quite a while since I read any of this series, and I'd forgotten how enjoyable they are. William and Hester Monk have aged a bit, and others in the series are also growing older, but with age comes wisdom.
In this episode, Hester discovers that one of the doctors at the hospital where she is temporarily working has a brother who is a scientist working on a cure for "white blood disease". He is actually developing the early protocols for blood transfusions, but is using young children (bought off the streets of poverty) to be blood donors.
When a wealthy patient's daughter demands that her father be given this on-going treatment, Hester and the three children involved are kidnapped and held at a hidden location so the treatments can continue. Hester is convinced that if the patient dies, she and the children will be killed to cover up the mess.
Monk sets out to find her. The rest will be up to the reader to discover. It's a good read, with excellent insight into Victorian medical practices.
I received the audio book version of this from the Early Reviewers program of LibraryThing. Well worth reading, and kudos to the production company for a well-done audio.
Title:
Corridors of the Night
Author:
Anne Perry
Publisher:
Recorded Books Inc. (2015)
Genre:
Mystery, historical fiction
Subject:
Victorian medical practices
Setting:
London
Series:
William Monk Novels
Source:
Early Reviewers program, LibraryThing.com
Why did I read this book now? I
promised a review in exchange for a review copy.