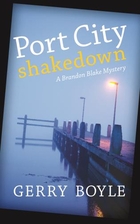 This first book in a new series is set in and around the Portland, Maine, waterfront. It introduces Brandon Blake, a loner who lives on his old wooden cruiser. Raised by his alcoholic grandmother after his mother was lost at sea, Blake learned to depend on himself. During an assignment for a law-enforcement class, Blake gets involved in a fight and is marked for payback by a soon-to-be-released convict. Meanwhile, questions surface about his mother's disappearance.(from the publisher)
Last year I read the 2nd in this series "
Port City Black and White"
but only got around to reading this 1st in the series when the paperback edition was offered through LibraryThing's Early Reviewer program. This is a very well done police procedural series with lots of room to grow. I especially like how Boyle shows us the early motivations that bring Blake to his career in the Portland police department.
I've gotten to know the city a bit more than I did when I read the previous volume and was very comfortable reading this. The crime story was especially well-plotted and I didn't see the end until it was upon me. I don't do spoilers, but there was plenty of action, romance, and lots of clues to keep the reader interested. I did see that we were going to solve the crime, but I didn't realize what the crime was!!! A great story, and I'll definitely keep my eyes out for the next one in the series.
Title:
Port City Shakedown
Author:
Gerry Boyle
Publisher:
Down East Books; Reprint edition (August 15, 2014) 240 pages
Genre:
police procedural, crime
Subject:
gang fighting, smuggling
Setting:
Portland Maine
Series:
Brandon Blake crime mysteries #1
Source:
Review copy from the publisher through LibraryThing.com Early Reviewer program
Why did I read this book now?
I promised to do a review in return for a free copy.