I've really gotten a bit behind on blogging. Between my trip to Baltimore earlier this month, and a bunch of admin work at the library, I've had time to read, but have not been too motivated to review or even read the blogs. This weekend as the Basketball tournaments begin (we're big fans of the UMd Lady Terps in this household), baseball spring training is really heating up, and the Umaine Black Bears Hockey team is competing for the Hockey East championship, I can't stay too focused on reading, but do have time to browse the blogs.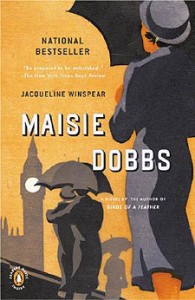 As I began trolling blogland, I discovered that March is Maisie Month! How did I get so lucky? And how on earth did I miss this announcement? It just so happens that for the past 10 weeks, I've been gorging on the wonderful Maisie Dobbs series, and have now completed ALL of them. There's a terrific
Blog Tour
, A
ReadAlong,
and author Jacqueline Winspear is keeping us excited about the newest volume on her
Facebook page.
I'm going to be lurking and probably commenting on the Read Along. In the meantime, I want to comment on how much I've enjoyed these books not only as mysteries, but as studies of the effect of World War I on the lives of the people of Great Britain. As an adjunct to my
War Through the Generations
reading focusing on World War I, they have provided a colorful, believable, empathetic and well-researched fictional account of class structure, the impact of technological changes, and the building sense of uneasiness and impending doom about Germany's politics. At the same time, Winspear gives us some thoroughly loveable characters: Maisie herself, her elegant mentor and sponsor Dr. Maurice Blance and Lady Crompton, her scrappy assistant Billy Beale, her best friend Priscilla, her father, and her old and new loves, Simon and James. With each new book, we find ourselves feeling like we've stepped into our neighbor's kitchen for a good cuppa. The backfill of each is just enough for new readers to be able to pick up at anyplace (although they are absolutely such fun, I can't imagine why one wouldn't want to start from the beginning).
Rather than try to review each book here, please stop by the
TLC Blog Tour
page and see what all the readers are saying. I especially liked Gaby's comment on
Starting Fresh:
she said she'd been missing Downton Abbey and found these filled the gap. Spot on Gaby! I totally agree.
Off to crawl the Blog Tour some more. See you there!